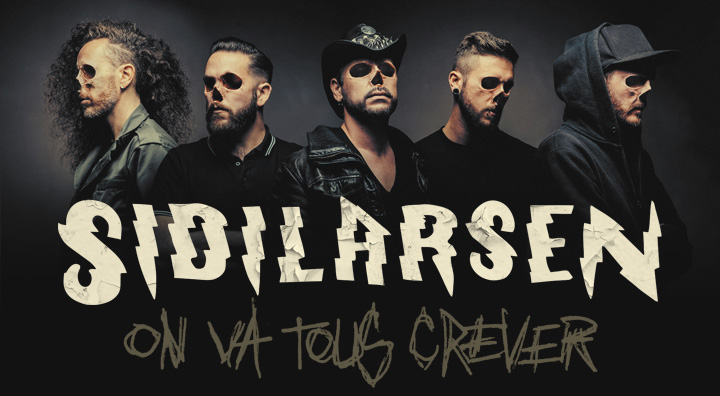 Stronger than ever, and apologizing to no one, SIDILARSEN is back with its 7th studio album, "On va tous crever". This new album follows "Dancefloor Bastards", which marked the rise of the band's career along with the thunderous acclaim for the DVD that immortalized their 20th-anniversary concert, "In Bikini dura Sidi".
In these uncertain times, this new release is a revolution. SIDILARSEN is back on the warpath.Like the title of this new LP suggests, the group is approaching their fate from the dark side. As wide-eyed and humanist as they have always been, they take the pulse of a declining society, of a neoliberal system running out of steam.
On the eve of the sixth extinction, SIDILARSEN takes an uncompromising stance, questioning choice, intention, and the inevitable. Can we still love each other, survive the intensity of these times, and continue to be free? Or should we stop fighting?
There's nothing melancholic here, it's all about fire and blood. Like molten iron, SIDILARSEN has become dangerous. With the masterful American-style sound engineer, Plume, behind the console, the band is uncompromising, holding nothing back from the metal, the blood, or the violence. And with this latest album mastered by Drew Lavyne of New York (Foo Fighters, Terror, Norma Jean, Snoop Dog...), the group has transformed itself into a demolition machine.
"A vif", "Zero un zero", "Money game", "On va tous crever", and "God's got guns" are all hymnsrepresenting these times. Their electric metal bares its teeth, throwing its raging guitars to the forefront. There's no doubt that the band's return will bite us best where it hurts the most.
Heavier and stronger than ever before, SIDILARSEN is on fire.
Ready to watch it all burn down?



Nouvel album « On va tous crever » (Verycords)

3 ans après l'emblématique « DANCEFLOOR BASTARDS », qui marque l'essor de leur carrière et 1 an après le live tonitruant des 20 ans « IN BIKINI DURA SIDI », SIDILARSEN est de retour.
En cette époque troublée, ce nouvel opus est une révolution et les SIDI ont déterré la hache de guerre. À l'image du titre de l'album, c'est par le versant sombre qu'ils abordent notre monde. Toujours conscients et humanistes, ils dressent le constat d'une société en déliquescence, d'un système néolibéral à bout de souffle. À l'heure de la sixième extinction, ils questionnent le choix, le cœur, l'inéluctable, sans complaisance. Peut-on s'aimer encore, vivre l'intensité du présent, être libres, doit-on cesser de se battre ?
Il n'est pas question ici de mélancolie, mais de feu et de sang. Brûlant comme le fer en fusion, SIDILARSEN est devenu dangereux. Plume en maître d'œuvre pour une production à l'américaine, avec un son metal, saignant, violent, c'est un virage sans concessions. Masterisé par Drew Lavyne à New York (Foo Fighters, Terror, Snoop Dog...) la machine devient bulldozer.
« À vif », « Zéro un zéro », « Money game », « Interdit de se taire », « God's got gun's » et « On va tous crever » sont des hymnes. Le clip de ce dernier se permet même de dépasser le million de vues en 4 mois ! Leur metal électro sort les dents et met la rage des guitares au premier plan. Nul doute que leur retour sur scène va marquer les mémoires.
Plus lourd plus fort, SIDILARSEN est en feu !
Prêts pour l'incendie ?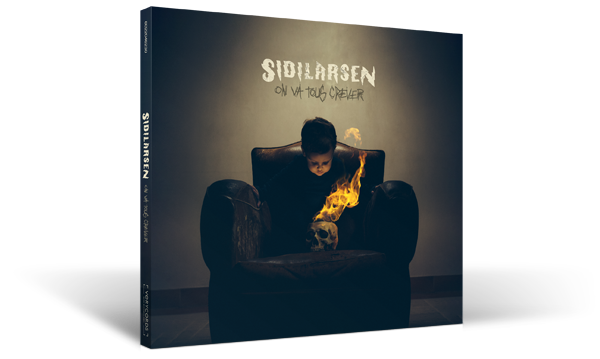 01. À VIF
02. MONEY GAME
03. INTERDIT DE SE TAIRE
04. ZERO UN ZERO
05. GOD'S GOT GUNS
06. START-UP NATION
07. WE COME TO GET IT
08. ON VA TOUS CREVER
09. POWERFUL DAY
10. DANS TES BRAS
11. L'ARDEUR DU VIVANT



SIDILARSEN OVTC TOUR

21.08.21 CERCOUX (17) Festival 666
17.09.21 BOMAL-SUR-OURTHE (BE) Durbuy Rock Festival
18.09.21 NOTRE DAME DE GRAVENCHON (76) Arcade
01.10.21 BRON (69) Jack Jack MJC Bron
15.10.21 MUR ERIGNE (49) Omega Sound Festival
31.10.21 PENMARC'H (29) salle Cap Caval
05.11.21 CHALON SUR SAONE (71) LaPéniche
06.11.21 MOULINS (03) Convention tattoo
27.11.21 BAGNOLS SUR CEZE (30) La Moba
03.12.21 BREST (29) La Carène
04.12.21 NANTES (44) Le Ferrailleur - Nantes Metal Fest
11.12.21 PARIS (75) L'Alhambra
22.01.22 BORDEAUX (33) Le Krakatoa
09.04.22 NEUFCHATEAU (88) Trait d'union
02.07.22 COLOMBIER-SAUGNIEU (69) Plane R Fest
16.07.22 LANDRESSE (25) Guerre du son
* + Tambours du Bronx

+ D'autres dates bientôt annoncées

(SOUS RÉSERVES CONDITIONS SANITAIRES)